Goan Recipes - to tickle your tastebuds !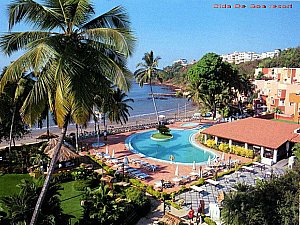 Goan cuisine is a blend of different influences the Goans had to endure during the centuries. The staple food in Goa is fish, both among the Hindus as well as the Catholics. On other fronts however, there is a vast difference in the foods of these two communities, the main reason being that the Christians also eat beef and pork which are taboo in most Hindu households.
While Hindu Goan food does not seem to have picked up any Portuguese influence, the Christian food has been influenced not only by the Portuguese, but also by its overseas settlements. However, it has not been a one way transfer.
An example is 'Canjade Galinha', which is a type of chicken broth with rice and chicken pieces, and is originally a Goan recipe. Another is 'Arroz Doce', which is a Portuguese adaptation of pais or kheer (sweetened rice) found in India.



GOAN SPECIALITIES:
Chicken Xacuti - Mrs. Josephine Lobo, Aldona
Ingredients:
1 large chicken (1 ¼ kg)
salt to taste
one cup grated coconut and 1 tbsp fresh, diced coconut
1 ½ tbsp coriander seeds
1 dessertspoon cumin seeds
1 tbsp poppy seeds
1 tsp turmeric seeds
8 red dried chillies
1 tsp grated nutmeg
6 star aniseed
2 tsps fennel seeds
1/3 cup oil
2 large onions, chopped fine
6 green chillies, chopped fine
2 tbsp tamarind pulp
3 cups water

Method:
Wash, clean and joined the chicken, and then each piece into two. Apply salt and keep aside. In a flat/ griddle, on medium heat brown the grated coconut, and all the spices except the nutmeg, green chillies and diced coconut. You will get a strong fragrance when the spices are done (approx. 3 -5 mins.). Remove from heat and grind this mixture of roasted spices to a paste in the blender/grinder. Heat oil in a pan on medium heat and saute all the ground spices along with the green chillies, and 1 large onion chopped fine. Add the chicken pieces, diced coconut, nutmeg and salt to taste along with the tamarind pulp. Lower the flame and add the water gradually, stir cooking, as you do so in an open pan. After 15 minutes, raise the flame and shake the pan gently. The oil will rise to the top. Remove from fire.
**************************************************
Galinha Cafreal
- Miss Anna Almeida, Porvorim(chicken marinated and fried)

Background:
Galinha is Portuguese for chicken. This recipe is believed to have originated from Africa. It basically means "grilled chicken", although in Goa it is fried instead of being grilled.
Ingredients:
1 large chicken (1 ¼ kg) jointed
6 green chillies/peppers
1 ¼ inch piece ginger
10 cloves garlic
1 tbsp coriander seeds
1 tsp cumin seeds
½ tsp garam masala
1 tbsp lemon juice
3 tbsp oil
2 medium onions, chopped fine
4 large tomatoes, halved
6 medium potatoes, boiled, halved

Method:
Grind to a fine paste, the ginger, garlic and all the spices in the lemon juice, including the green chillies/peppers and half chopped onions, adding salt to taste. Joint the chicken and apply the ground spices to the chicken pieces. Marinate the chicken for 2 hours. Heat oil in a pan on medium flame and saute the rest of the chopped onion. Fry the chicken pieces, turning them over both the sides till the pieces are browned and cooked (approx. 20 mins). In a separate pan, heat 1 tbsp oil and fry potatoes and then very lightly the halved tomatoes. Serve the chicken with the fried potatoes and tomatoes.
**************************************************
Galinha com Coentro
- Mr. Agnello Rodrigues, Anjuna(chicken with coriander)
Ingredients:
2 chickens
100 gm coriander leaves
80 gm ginger
80 gm garlic
4 green chillies10 gm hot masala
(cloves, cinnamon, cardamom, peppercorn & cumin seeds)
½ tsp turmeric powder
15 gm cashew nut paste
Oil to fry
Salt to taste
1 ½ tbsp lemon juice

Method:
Clean, remove skin and de-bone the chicken and cut into eight pieces. Marinate the chicken with salt, lemon juice and turmeric powder and keep aside. Grind the spice and other ingredients together to a fine paste. Rub the chicken with ground paste. Keep it at least one hour for marination. Heat oil and quickly fry the chicken on both sides, thereby sealing in its juice. Do not over fry. Add remaining ingredients and cook for 3 to 4 minutes. Add salt to taste. Remove and serve in its own pan juice. Serve with local bread/garlic fried rice.
**************************************************
Goan Chicken Fry - Mrs. Catherine D'Souza, Margao
Ingredients:
1 chicken (750 g)
3 level teaspoons salt
1 sour lime
35 small dry red chillies and 2 green chillies
4 peppercorns
25 flakes garlic
4 inch piece ginger
sufficient oil to deep fry the chicken

Method:
Apply salt and sour lime juice to the chicken. The chicken may be cut into pieces if desired. Grind all the chillies, peppercorns, garlic, ginger to a fine paste and apply onto the chicken. Allow it to marinade for 7 to 8 hours. Deep fry and serve hot with a salad.
**************************************************
**************************************************
BEEF
**************************************************
Salted Tongue - Mr. Tony D'Souza, Vasco
Ingredients:
1 big tongue, cleaned and washed well
1 tsp sodium benzoate
1 tsp saltpetre
6 tsp salt
2 tsp sugar
2 tbsp vinegar or lime

Method:
Dissolve sodium benzoate, salt, sugar and salt in half a glass of water on low heat. Add lime or vinegar and pour this mixture on the tongue and with a fork prick it all over. Keep this in the fridge for 4 days, turning it everyday.

On the 4th day, pressure cook the tongue for 45 minutes, on slow fire.
**************************************************
Gravy Tongue - Mrs. Mavis Mendes, Calangute
Ingredients:
1 beef tongue, cleaned and skinned
½ bunch coriander leaves
2 capsicums
12 flakes garlic
1 piece ginger
½ tsp turmeric powder
Pinch of cumin
1 tsp coriander seeds
6 peppercorns
3 pieces of cinnamon
10 cloves
5 cardamoms
1 packet tomato puree or boil 4 tomatoes and run through mixer
4 onions
Vinegar to taste
Maggi cube, optional
10 kashmiri chillies

Method:
Cut the tongue into small pieces. Salt and keep aside. Roast all thew spices except coriander leaves, capsicum and turmeric powder. Grind all the spices along with coriander leaves and capsicum to a fine paste. Saute the onions in a pressure cooker, add the meat, tomato paste, ground masala, maggi cube and pressure cook for 45 minutes. Remove from fire. Add vinegar, cook for another five minutes.
**************************************************
**************************************************
PORK
**************************************************
Aadd Maas
- Mr. John Fernandes, Benaulim(pork bones cooked in red spicy gravy)

Ingredients:
½ kg pork bones

Grind to a fine paste the following ingredients:
7 cloves
2 cardamoms
2 big pieces of cinnamon
10 flakes of garlic
½ inch piece of ginger
½ tsp cumin
½ tsp pepper
1 inch piece of turmeric
6 kokum solam
1 onion
4 red chillies

Method:
Mix all the ground masala with the pork bones and marinate for 1 hour. Add the onions and the kokum and keep on the fire. Cook fro an hour on slow fire
**************************************************
Empadinhas
- Mr. Cajetan Letao(pork pies)

Ingredients:
5 lb pork with fat
½ litre water of 1 oz tamarind
Salt
2 or 3 tbsp vinegar
10 green chillies chopped
Pinch of turmeric powder
Pinch of clove powdered
½ oz sugar (or more according to taste)

For pastry:
½ kg flour
½ kg semolina
16 egg yolks
400 gm sugar
½ tbsp salt

Method:
Cut and chop the meat. Put in a pan together with tamarind water, vinegar, salt, chillies, turmeric, cloves and place on fire. When the meat is cooked and water dries, add the sugar.
Pastry preparation:
Mix all the ingredients together and knead well into a pliable dough. Roll out and line small greased pie cases with pastry. Fill and cover with pastry. Brush the tops with beaten egg yolk and bake in a hot oven.
Variations: As the pastry is sweet, the filling should be spicy. You can use boiled Goan sausages (without skin), or pungent prawn preparations instead of the above pork filling.
Alternative pastries
For empadinhas: Beat 100 gms butter with 200 gm sugar, add 4 eggs, beating one at a time. Add 500 gm flour and knead well into a smooth dough. Form pies. Knead 1 lb flour with ½ lb ghee, 4 eggs and ½ lb sugar to form dough.
Short crust pastry (for pasteis)
Ingredients:
8 oz or 8 tbsp flour
4 oz or 100 gm butter/margarine
2 tbsp cold water
Method:
Sieve flour into bowl. Cut butter into walnut sized pieces and rub into the flour with fingertips until the mixture resembles fine bread-crumbs. Stir the water into the mixture with the blade of a knife, then gather together into a ball with the fingertips.
Lightly flour a rolling pin and board and roll out pastry to thickness required.
Bake in second shelf from top in fairly hot oven.
Note: If possible, let it rest in the fridge in a covered bowl for 20 minutes before rolling out. Please note that when using salted butter do not add a pinch of salt. If using margarine, do.
**************************************************
Chouricos
- Miss Bernadette Lasrado, Tivim(spicy goan sausages)

Ingredients:
5 lb pork, wiped dry and cut into small pieces.
Grind:
4 oz red chillies
2 oz garlic
1 tbsp cumin seeds
2 tbsp powdered nutmeg
¾ bottle vinegar
2 tbsp salt
A little turmeric powder
1 tsp saltpetre
1/8 tsp cinnamon powder
1 wine glass coconut feni
Method:
Mix all together, put in an earthenware pot and press down with a weight and leave for 24 hours. On the following day fill in clean gut skin that has been first smoked and then dried in the sun., knotting at intervals to make sausages.
**************************************************
Fejoada
- Mrs. Nancy Fernandez, Panjim(Pungent gravy dish of sausage & dried beans)
Ingredients:
100 gm butter beans ( rajma, harricot or lima beans)
2 large Goa spicy sausages or more if desired
1 onion
1 tomato
Method:
Wash the beans, boil and keep aside. Slice the onion and tomato finely and fry in a little pork fat or oil till onion turns brown. Remove the skin from the sausages and fry the meat together with onion and tomato for a while, then add the beans, fry a little and add a cup of warm water. Salt may be added if necessary.
Allow to cook on slow fire for a few minutes till the gravy is quite thick. The taste of feijoada depends on the quality of the sausages, which should be spicy enough.
**************************************************
Pork Chilly Fry - Mr. Peter D'Mello, Santa Cruz
Ingredients:
1 kg pork with fat
6 onions, chopped
3 green chillies, chopped
1 inch piece ginger, chopped
1 tablespoon vinegar
Salt
2 tomatoes, chopped
A few coriander leaves
Method:
Cut the pork into small pieces and salt. Heat a frying pan without oil. Add the pork pieces and garlic and keep stirring till the water from the pork dries up. Add onions, tomatoes, coriander leaves, chillies and fry till pork is cooked. Just before removing from the fire, add the vinegar.
**************************************************
Pork Vindalho
Mr. Savio Carvalho, Vasco(pork cooked in pungent red gravy)
Ingredients:
1 kg lean pork, cleaned
Salt to taste
10 dried red chillies/peppers
10 peppercorns
10 cloves garlic
1 inch piece ginger
8 cloves
1 inch piece cinnamon
1 tsp cumin seeds
½ mustard seeds
½ tsp sugar
½ tsp vinegar
2 tbsp oil
½ peg coconut feni
2 medium onions, chopped fine
2 cups water

Method:
Cut the cleaned pork into bite-sized pieces. Apply salt and keep aside. Grind all the spices in the vinegar, adding the ½ tsp sugar. Apply the ground spices to the meat and keep aside for 4 hours.
Heat the oil in the pan on medium heat and add the meat. Stir fry the meat for 5 minutes, then add the chopped onion, coconut feni, rest of the vinegar and the water gradually. Cover the pan and lower heat. Stir cook till meat is tender and the oil rises to the top (approx. 30 minutes).
Note: Chicken or beef can also be used in the recipe given for Pork Vindaloo.
**************************************************
Assado de Leitoa (Roast Pigling) - Mrs. Yolanda Xavier, Candolim
Ingredients:
4 legs of pigling
2 tbsp salt
1 level tsp cumin seeds
2 level tsp peppercorns
2 inch piece of turmeric
16 cloves

1 tsp sugar or small bit of jaggery
2 inch piece of cinnamon
4 inch piece of ginger
25 cloves of garlic
4 tbsp ghee or fat
Method:
Wash the legs of the pigling well, prick slightly and rub in the salt and keep aside. Grind all spices to fine paste with a little water and apply this paste to the legs. Sprinkle a tablespoon of vinegar and keep aside for an hour or so. Then take a pan, place it on slow fire, pour ghee or fat and arrange the legs. Allow to sizzle for a while and then add 3 or 4 cups of warm water including the water with which the grinding stone has been washed. When the water is almost dried and the meat is cooked, remove the pan from the fire.
With the help of a fork and knife ( do not use fingers) slice the meat off the legs very neatly and fry these pieces in ghee or fat in a frying pan. Arrange the meat slices on a flat dish, sprinkle the gravy that is left in the pan over the meat and surround the meat with salad.
**************************************************
Sorpotel
- Mr. Herman Serrao, Tivim(diced and fried pork cooked in red masala gravy)
Background:
(considered to be a Goan classic)
Sorpotel is believed to have originated from the Portuguese Sarrabulho (which is some kind of pork stew with curdled pig blood !) and Cabidel (pork giblets). It is often consumed during (catholic) religious festivals or important household functions.
Ingredients:
1 kg boneless pork
1 pork liver, 1 heart, 1 tongue, 2 kidneys
3 cups water
12 dried red chillies/peppers
12 peppercorns
12 cloves garlic
1 inch piece ginger
1 tsp cumin seeds
8 cloves
2 one-inch pieces cinnamon
¼ cup vinegar
½ cup oil
1 peg coconut feni
Salt to taste
6 green chillies/peppers, chopped
4 medium onions, chopped fine
Method:
Wash and pat dry the meats. Put in a deep pan with the water on medium heat. Cover with a lid and parboil the meats, (approx. 20 minutes). Remove from the fire, cool and dice the meats fine. Keep aside the water.
Put all the spices except the green chillies/peppers and onion, into the blender/grinder with the vinegar and grind to a fine paste. Heat the oil in a deep pan on medium heat and lightly fry all the diced meat, stir frying continuously till it is lightly browned. To the fried meat add the ground spices in vinegar and stir fry for 5 minutes. Add salt to taste, coconut feni, any remaining vinegar, the stock of the boiled meat , chopped onions and green chillies. Lower the heat and let the sorpotel simmer fro 45 minutes or more. Take care to stir it occasionally. When the oil comes to the top and the sauce is thick, remove from the heat.
Remember the sorpotel tastes better on the 3rd or 4th day, after it has been warmed up once a day till the day it is served. It is customary to serve sorpotel with sannas for special occasions
**************************************************
Presunto (Ham) - Mr. Ernest Pereira, Parra
Ingredients:
1 kg pork (without bones)
150 gm (one cup approx.) salt
1 ½ tsp saltpetre
1 large sour lime
1 wine glass palm feni
10 cloves
2 inch piece of cinnamon
Method:
Do not wash the meat. Prick it well, rubbing in the salt in at the same time. Apply saltpetre, thoroughly. Squeeze out the juice from the lime and sprinkle evenly over the meat. Pour the palm feni, too, in the same way, and keep the meat under weight for 24 hours (after about 10 or 12 hours turn the meat). Then wash the meat well and tie it into a roll placing spices inside. Cook till tender. Cool, remove string. When required, cut into fine slices and use for making sandwiches or serve with salad.
**************************************************
Roasted Suckling Pig, Stuffed - Mrs. Esmaralda da Costa, Vasco
Ingredients:
1 whole suckling pig about 4-5 kg
Stuffing:
1 medium size onion (chopped)
60gms butter
240 gm fresh white breadcrumbs
Liver and kidneys of the pigling (finely chopped)
2 tbsp chopped parsley
1 tsp ginger-garlic paste
1 egg (beaten)
Method:
Soften the onion in the butter, then add the prepared liver and kidneys, saute over brisk heat for 2-3 minutes, then turn into a bowl and cool. Add bread crumbs, herbs, paste and seasoning. Stir in beaten egg.
Roasting the pig:
Set oven at 4000F or Mark 6. Clean and wipe the pig thoroughly and fill it with the stuffing, packing it in well, and sew it up. Set the pig on the roasting tray (set the pig's forelegs forward, straight out from the carcass and the hind legs out backwards in the same manner) and brush with 1-2 tablespoons of oil or dripping (to make the crackling crisp). Roast in the preset oven for 1 ½ - 2 hours, according to weight, basting frequently. Halfway through cooking, dredge with flour and continue basting.
When done, serve on a large sliver tray with an apple in mouth and arrange salad leaves around it and thinly sliced lemon, onions and tomatoes.
**************************************************
Vindaloo - Mrs. Rose Codeiro, Baga
Ingredients:
700 gms- Pork legs
7 tbsp- Oil
1 1/3 Cup - potatoes cut in cubes
1/3 Cup - finely chopped onions
100 gms Pickled onions
Salt - to taste
1/4 Cup finely chopped coriander leaves
Oil for deep frying the potatoes
Marination
1/2 Cup malt vinegar
1 1/2 tsp Peppercorns
1 3/4 tsp - Sugar
8 Green cardamoms
8 Cloves
3 Green chillies (slit, de-seeded)
Salt- to taste
Paste
8 Whole red chillies
10 Sticks cinnamon (1 inch each)
1 tsp - Cumin seeds
5 tsp - Coriander seeds
½ tsp - Turmeric powder
1 tbsp - Chopped garlic
3 tbsp - Chopped ginger
7 tbsp - Malt vinegar .
Method:
Clean and remove excess fat from the pork. Debone the pok and cut into 1 inch cubes. Deep fry the potato cubes in hot oil and drain well and keep aside.
Marination
Pound pepper with a pestle and mix it with the rest of the ingredients of the marination. Marinate the pork pieces in it for an hour.
For paste
Add all the ingredients of the paste in a blender along with 1/4 cup water and make a fine paste.
Heat oil in a kadhai and saute the finely chopped onions till golden brown. Add the paste and saute well till the oil leaves the masala. Add pork along with the marinade and stir for 2-3 minutes. Add five cups of water.
Cover and simmer well until pork is tender.
Finally...Add potatoes and pickled onions and cook until potatoes are soft. Add salt and mix. Garnish with chopped coriander leaves. Serve hot with boiled rice.
**************************************************
PICKLES
**************************************************
Boram Pickle - Mr. Michael de Souza, Mapusa
Ingredients:
500 gm small borams
30 gm turmeric
5 gm red chillies
5 gm asafoetida
10 gm green chillies
150 gm salt
30 gm mustard seeds
700 gm sugar
¼ cup vinegar
200 ml oil
Method:
In a bowl mix borams with half the quantities of salt and turmeric. Set aside for 24 hours.
Heat part of the oil. Fry asafoetida, the rest of the turmeric, green chillies, and half the mustard. Grind with vinegar and mix with the borams. Add rest of salt and sugar. Heat remaining oil, add rest of mustard and allow to crackle. Remove. Cool. Then add red chillies broken into two. When cool pour over borams.
**************************************************
Prawn/Fish/Chicken Pickle - Miss Jenny Lopez, Aldona
Ingredients:
½ kg prawns/fish/chicken
25 gm ginger
15 gm turmeric
60 ml vinegar
15 gm garlic
60 gm salt
15 gm mustard seeds
240 ml mustard oil
8 gm red chillies
1 lime
Method:
Clean prawns/fish/chicken. Apply salt, turmeric and fresh lime. Fry in mustard oil and grind all the spices with vinegar. Heat 70 ml of mustard oil. Fry spices. Add salt and mustard, fry for 2-3 minutes. Add fried fish/chicken, cool. Add remaining mustard oil that has been previously heated and cooled.
**************************************************
Brinjal Pickle - Mr. Jerry D'Costa, Baga
Ingredients:
2 large brinjals
1 inch ginger
1 small pod of garlic
A few curry leaves
10 kashmiri red chillies
1 tsp fenugreek seeds
1 tsp mustard seeds
1 tsp turmeric powder
¼ tsp cumin
1 tbsp sugar
½ bottle vinegar
Salt to taste
Method:
First cut off the stems of the brinjals, then wash and cut them very fine. Also cut ginger and garlic finely. Apply salt to the cut brinjals. Grind fine with vinegar, chillies, fenugreek, mustard, cumin and turmeric powder. Put little oil in a saucepan and fry the ginger, garlic and curry leaves. Then add the brinjal pieces and fry for 10 minutes. Finally add the ground masala and remaining vinegar and sugar and stir well.
**************************************************
Carrot Pickle - Miss Lorna D'Silva, Porvorim
Ingredients:
1/2 kg carrot
15 gm red chilli powder
Salt as required
10 gm turmeric
1/2 cup vinegar
15 gm garlic
1/2 cup salad oil
10 gm ginger
Method:
Cut carrots into small cubes and add salt. Keep in the sun for 3-4 hours. Add vinegar to chilli and turmeric powder. Grind ginger, garlic to a fine paste. Add oil and fry the spices/masala. Add carrots, bring to a boil and remove
**************************************************
Lemon Peel Pickle - Mr. Peter D'Lima, Donna Paula
Ingredients:
1 kg lemon peel
200-250 gm salt
50 gm green chillies
50 gm ginger
25 gm critic acid (5 level tsp)
300 ml boiled and cooled water
300 ml oil
5 gm asafoetida
10 gm turmeric powder
50 gm red chilli powder
15 gm fenugreek (roasted & powdered)
10 gm mustard seeds (for seasoning)
10 gm cumin powder
2 gm sodium benzoate

Method:
Cut the peel into small pieces. Cut the ginger and chillies into fine pieces. Dissolve citric acid in the water. Mix the peels, chilli and garlic pieces with salt and citric acid solution and keep aside for a week. Mix the product everyday and expose to the sun for about 15-20 minutes a day. After this treatment, mix the pickle with chilli, turmeric and fenugreek powder. Heat the oil and add mustard, cumin and asafoetida. Cool and mix the people. Dissolve sodium benzoate in a little water and mix with the pickle. Bottle.
**************************************************
Mango Miskut
- Mrs. Queenie de Sales, Margao(green mango pickle)
Ingredients:
50 tender green (small) mangoes
6 cups salt
1 kg sweet oil
1 inch piece asafoetida (15 gm approx.)
1 inch piece turmeric
2 level tbsp fenugreek
14 level tbsp mustard seeds
16 level tbsp chilli powder
Method:
Wipe the mangoes, slit them lenghtwise into fours leaving the seeds inside. Stuff each mango with salt and keep under heavy weight for three days turning them after two days. On the fourth day heat the oil till smoke appears over the oil. Add asafoetida, turmeric and fenugreek. Keep the pan down from the fire before thew spices turn too brown. With a dry spoon remove the spices and keep aside in a dry container. Add 7 level tablespoons of mustard seeds to the hot oil and allow to cool slowly.
Roast the remaining 7 tablespoons of mustard seeds (in a dry frying pan) slightly pound well and keep aside. Grind the asafoetida, turmeric and feungreek fine and keep aside.
Mix the chilli powder and all other ground ingredients with the water that collects around the mangoes. Remove the seeds from the mangoes, stuff the masala into each mango, arrange the mangoes in a jar and pour the cold oil over the mangoes. Oil level should be 1 inch above the mangoes. This pickle can be eaten after a month.
Note: Water should not be used whilst grinding, and all vessels should be clean and dry before use.
**************************************************
Raw Mango Water Pickle - Mr. Xavier Futardo, Aldona
Ingredients:
100 small tender green mangoes
750 gm rock salt
¼ kg small red chillies
50 gm fenugreek
50 gm mustard seeds
10 gm asafoetida
Method:
Put the mangoes in a plastic bucket together with the salt and chillies. Roast the fenugreek and mustard seeds and asafoetida separately in a frying pan and crush. Add to the raw mangoes. Keep the raw mangoes under heavy weight for around 10 days. Remove the weight and pot the raw mangoes along with the water that will have to be oozed out. Stored in an airtight container this pickle can last even for two years.
**************************************************
Peixe Tamarindo (Para)
- Mr. James Gomez, Parra(dry fish pickle)
Ingredients:
25 dried mackerels or 1 kg salted seer fish cut into pieces
75 dry red chillies
2 inch piece ginger
3 pods garlic
1 tbsp cumin seeds
½ tsp peppercorns
3 pieces turmeric -1inch size
3 bottles vinegar
Method:
Clean the dried fish with a brush, remove scales and sand and wash well in a little vinegar. Grind all spices in vinegar. (Do not use water at all. Even the stone should be wiped dry and washed with vinegar).
Arrange the vinegar-washed fish in a jar and pour the masala over it and vinegar, if necessary, so that the fish is fully covered. The jar cap should be tight and tied with a piece of clean cloth round the mouth of the jar. The preparation will be suitable to eat after 3 or 4 weeks. Using a clean dry spoon, remove only as much fish as you require at a time. Fry using a little oil.
**************************************************
Tendli Pickle
- Mrs. Celine Cabral, Porvorim(gherkin pickle)
Ingredients:
200 gherkins
4 cups oil
20 green chillies (minced)
7 pods of garlic (minced)
6 inch piece ginger minced
2 cups vinegar
4 tbsp chilli powder
2 tbsp turmeric
4 tbsp sugar

Method:
Cut gherkins into quarters, add salt and hang to let the water drain overnight. Boil the oil and add the green chillies, garlic and ginger. When well fried, add the vinegar, chilli powder, turmeric, gherkins and sugar. Bring to one fast boil and then remove from fire. Then bottle, making sure the pickle is covered with oil.
**************************************************
CHUTNEYS
**************************************************
Coriander Chutney
- Mr. Fernando Figereido, Anjuna
Ingredients:
2 cups coriander leaves, tightly packed
1 cup fresh grated coconut
4 green chillies/peppers
1 medium onion chopped fine
½ inch piece ginger
4 cloves garlic
½ tsp cumin seeds
1 dessertspoon sugar
1 dessertspoon lemon juice
Salt to taste
Method:
Blend all the ingredients in a blender/grinder adding a tablespoon of water if necessary.
Note: If coriander is not available, mint leaves can be used or a mixture of both. This preparation goes well with salted biscuits or as a spread for sandwiches. If it is liquefied slightly it can be used as a dip for french fries, pakoras or croutons.
**************************************************
Green Mango Chutney - Miss Theresa Pinheiro, Vasco
Ingredients:
2 large green mangoes, peeled
1/2 cup grated coconut
4 green chillies/peppers de-seeded
6 cloves garlic
1/2 tsp cumin seeds
1 tbsp sugar
10 mint leaves
Fresh small sprig coriander
Juice of 1 lemon
Salt to taste

Method:
Put all the ingredients in a blender / grinder after cutting the mangoes into tiny pieces. Blend smooth.
**************************************************
SNACKS
***************************************************
Beef Rolls - Mr. Alex D'Mello, Santa Cruz
Ingredients:
1 kg beef
2 tsp salt
2 tsp ginger-garlic paste
3 tbsp vinegar or lemon juice
1 tbsp spice powder (see below)
2 hard-boiled eggs (chopped)
1 potato (diced)
1 carrot (sliced)
3 tbsp spicy sausage meat
2 tbsp oil
1 onion (chopped fine)
1 tomato (chopped fine)
1 green chilli (chopped fine)
1 cup tamarind juice
Method:
Cut the meat into 6 inch slices. Flatten slightly with a tenderiser. Mix the meat with the next 3 ingredients and half a tablespoon of spice powder. Allow to stand for 2 hours in a cool place.
Place a little chopped egg, potato, carrot and sausagemeat on each slice. Roll the slices and secure them very neatly with a clean thread. Heat oil in a large pan, brown the onion, add tomato, green chilli, the remaining spice powder, place the rolls and fry them slightly till the color changes. Add tamarind juice and cook under pressure.
Untie threads before serving.
Spice powder:
100 gm cumin seed powder; 100 gm turmeric powder; 50 gm black pepper powder; 3 level tsp clove powder; 1 tsp cinnamon powder, 1 level tsp red chilli powder.
**************************************************
Croquettes - Mrs. Rose Albuquere, Panjim
Ingredients:
1 kg minced mutton or beef
2 onions, cut fine
2 red chillies (dried)
4 green chillies, de-seeded
10 cloves
1 inch piece ginger
8 cloves garlic
Salt and pepper to taste
2 slices bread
2 eggs
1 cup water½ cup of breadcrumbs
1 cup of oil for frying
Method:
Mix the meat, onion, chillies, cloves, garlic, ginger and salt and pepper with 1 cup of water. Put in a pan on moderate heat and stir cook till all the water has been absorbed and the meat is dry. Grind meat fine in a blender. Soak the bread in water for 5 minutes. Squeeze dry and add to the meat along with 1 egg, lightly beaten. Form the meat into cocktail-type sausage shapes. Beat the remaining egg and dip each croquette into the beaten egg, then into the breadcrumbs. Heat the oil in a frying pan on a moderate flame and fry the croquettes to a golden brown color. Cool. You should get about 30 croquettes.
**************************************************
Pasteis
- Mrs. Debbie D'Mello, Calangute(patties)
For pastry/crust:
1 kg flour
½ kg semolina
¼ kg butter
4 egg yolks
Salt to taste
Thick milk of half a coconut (removed without water)

Method:
Mix all the ingredients into the coconut milk and knead well. Roll out pastry and use as desired.
Suggested fillings:
1 lb beef
1 chicken
½ lb chouricos de reino
salt to taste
oil or fat for frying

Method:
Boil or pressure cook the beef and chicken with sufficient salt. Allow water to dry out. Separate the meat from the chicken bones. Mince or finely chop chicken meat, beef and sausages. Heat oil and fry the meat till nicely browned.
**************************************************
Rissois de Camarao
- Mrs. Mary de Costa, Mapusa(prawn puffs)
Ingredients:
½ cup water with salt to taste
1 cup cleaned, de-veined prawns
1 medium onion chopped fine
1 tbsp oil
1 tsp cornflour1 tbsp grated cheddar cheese
2 tbsp milk
1 tbsp butter

Method:
In the salt water, boil the prawns which have been cut fine. Stir cook till all the water has been absorbed. Keep aside. Heat the oil on medium heat and saute onions till they are a golden brown.
Add prawns, cheese, and the cornflour mixed in the milk. Add salt to taste and stir fry for a minute. Keep aside.
For the dough you need:
½ cup water with salt to taste
1 tbsp butter
2 cups flour
2 eggs beaten
½ cup breadcrumbs
1 cup oil
In a pan, boil the water, adding the butter and the flour gradually, till all the flour has been used. The mixture should be smooth. Stir cook for 2 minutes. Cool the dough. Roll out on a floured board, and cut into small circles (approx. 1 ½ inch in diameter). Place half a teaspoon of the prawn filling in one half of the circle. Press over the folded edge, sealing firmly.
Now dip each puff in the egg mixture, then in bread- crumbs. Use all the dough. Heat the oil in the pan of medium heat and fry the rissois to a golden brown.
Note: The rissois can be prepared in advance and heated up in the oven before serving.
**************************************************
Stuffed Papads - Mr. Dominic D'Souza, Mira Mar
Ingredients:
12 small papads
½ cup shelled prawns
2 large onions, cut fine
2 green chillies or peppers, cut fine
4 cloves garlic
Salt to taste
1 cup oil
Method:
Wash and de-vien the prawns and cut them up fine. Cut the green chillies and garlic fine. Heat 1 tbsp of oil in a pan on medium heat. Saute the onion, garlic and chillies till golden brown. Add prawns and salt to taste. Stir fry for 7 minutes.
Moisten each papad carefully with a wet kitchencloth towel. Place a teaspoonful of the prawn mixture at one end of the papad. Now roll the papad, turning in the top and bottom end, so the prawn mixture does not escape. Secure each papad with a toothpick. Heat oil in a frying pan on medium heat and fry the papads, carefully turning them over till they are crisp and golden brown in color. Fry a few at a time.
**************************************************
**************************************************