It's Truly An Ultimate Paradise Resort ... a picnic experience
by Merck D'Silva
(Bandra)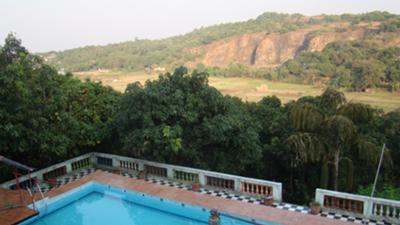 Valley View & Swimming Pool
It was picnic time and we were all geared up.


We left Bandra by bus at 6:45am and went via the Mumbai Ahmedabad Highway to Dahisar Check Naka and then proceeded left via Mira Bhayandar towards Uttan. An hour later, we reached Uttan, traveling through long winding roads with refreshing stretches of greenery on either side.
A gentle climbing pathway called St. Paul's Road, led us 500 ft. above sea level to Ultimate Paradise Resort, on the hilltop - with an expansive valley view.
We got a warm welcome by the contact person Mr. Vicky Kumar - a young, handsome guy, always smiling and trying to get to know what we need. His team of workers co-operated to make our stay comfortable.
Our group settled down and refreshed with some good breakfast. Then, we decided to explore the surrounding areas. A short bus ride got us through Uttan Market and further to the Velankani Shrine, Oratory - with its great view of the open sea, Uttan Light House and small fishing boats - all hectic with activity.
Back at Ultimate Paradise Resort, we started with self-introductions. Jokes, experiences, singing, a great game of Housie and then dancing to get our beverages down and whip up an appetite - got us to lunch-time. A good variety of food was spread, followed by dessert.
Some of us had a cool dip in the swimming pools. Some had a short snooze. Some played cards. Some chatted and enjoyed the valley view to relax and rejuvenate from the pressures of our hectic lives. Some explored the resort - which has about 30 rooms in around 1lakh sq. feet of land that has various levels and ambiences.
After tea and biscuits, an exciting game of tug-o-war got many energised to get their favourite team to win. Lots of action was witnessed by the onlookers, who cheered from the sidelines. Winners won holiday coupons to Goa / Lonavala.
Thanking the resort management for their services, we left - promising to return again, soon.
Tired, yet refreshed in mind and spirit, we got back to our buses that took us back to Mumbai - after a great picnic at Ulimate Paradise Resort.