Bandra Buzz
your local neighbourhood newspaper
Bandra Buzz is essentially your local community connect
to Bandra - Queen Of The Suburbs.


---
ADs | Survey
ALMs | Events | Humour | Issues | Offers | Reactions | Suggestions
Citizen Reporter
---
---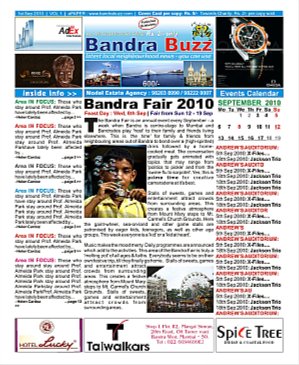 Bandra Buzz Print Edition
Bandra has had many local newspapers in the past, that catered to the local need of providing community content. However, since about three years, there's been a long gap of any good local publication.
To fill this void, Bandra Buzz was launched by a team of like-minded Bandraites - with a common aim of creating a 'Better Bandra'.
Bandra Buzz is a 24 multi-colour pages local newspaper - the page size of Mumbai Mirror, with a circulation of over 10,000 copies in and around Bandra.
---
ADs | Forums
ALMs | Events | Humour | Issues | Offers | Reactions | Suggestions
Citizen Reporter
---
Bandra Buzz HOME




Your local neighbourhood newspaper | Bandra's very own Social Network