All About Bandra
an informative overview of 'Mumbai's most loved suburb'
FREE CLASSIFIED PHOTO ADS - in 10 Countries around the world!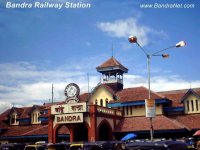 Earlier, in the 16th & 17th century Bandra -now 'Queen Of The Suburbs', was known by various names; as 'Bandor', 'Bandora', 'Bandera', 'Bandara', and in Marathi documents, as 'Vandre'(Marathi: वांद्रे). Old gravestones in St. Andrew's Church compound still carry the faint inscription of the Portuguese name 'Bandora'. In 1894, during the British Raj, the 'B.B.& C.I. Railway' changed the name of this sprawling suburb to 'Bandra' - which has remained till today.
EARLY HISTORY:
Incredibly, in 1548, when it was a flourishing town in Salsette, Bandra was gifted to a Portuguese, Antonio Passoa, 'for meritorious service' to the ruling Portuguese. After his death and that of his widow, it was passed on to the Portuguese Jesuits in 1568. The Jesuits had a small hermitage on the hill overlooking Mahim Creek, but resided in the Bandra fort. After the capture of Bassein by the Marathas in May 1739, the Portuguese also surrendered Salsette and Bandra. On 1st January 1775, the island of Salsette and Bandra was added to the British domain.
At that time, Bandra consisted of about 24 hamlets or pakhadis (villages) mainly inhabited by fishermen and farmers. Some of these were :
Dandem (Danda),
Chuem (Chuim),
Pall (Pali),
Mallan (Mala),
Xelalim (Sherly),
Rajana (Rajan),
Kantavari (Old Kantwadi),
Colario de Igrezia (Chimbai),
Ranuar(Ranwar),
Varoda (Waroda),
Dancavar (Boran) and
Jaitu-kali (Chapel Road).
... and other small pockets of areas where life is slower-paced, yet its people are more 'full of life' in their own unique way !
<<< Recipes : Goan | East Indian | Mangalorean | South Indian >>>
PAST GLORY:
Today's middle-aged and elderly who were born and bred in Bandra, still recall times when there were large stretches of green, clusters of villages, bungalows and villas that were surrounded by neat little gardens and large oars fringing the coastline. This was when every front door was always kept open at daytime, as a 'welcome' sign and people knew everybody else in their vicinity. There are over 150 commemorative 'Crosses' that dot the Bandra landscape, many built during the 1896-1906 plague epidemic. Among the oldest is a 17 feet high cross made of a single stone, now relocated in the compound of St. Andrew's Church.
The Bandra-Mahim Causeway was completed in 1845, linking the suburbs to the city. (It is not to be confused with the Bandra-Worli Sea Link, a major infrastructural project opened on June 30, 2009 which is designed to ease traffic across the causeway by building another bridge across the Mahim Bay.) The Bandra Municipal Market or 'Big Bazar' was constructed in 1874 and the Bandra Municipality was founded in 1876.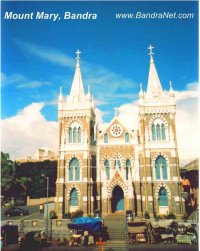 A 'GEM' IN THE QUEEN'S CROWN:
Mount Mary is one of the most loved landmark of Bandra. Originally the first Oratory was built in 1640 on the Bandra Hill, to serve the garrison, posted at Castella de Aguada - the fort at Land's End. The present edifice of Mount Mary Church was built in 1904. On the occasion of its golden jubilee in 1954, which was also the Marian Year, Pope Pius raised it to the status of a Minor Basilica. 2004 was the centenary year of the present structure. Through the years, it has became famous as a place of pilgrimage for Christians and non-Christians alike.
The Bandra Fair is an annual event every September - a week when Bandra is centre-stage to Mumbai and Bandraites play 'host' to their family and friends living elsewhere. This is 'the time' for family & friends from neighbouring areas out of Bandra to bond over a (high-spirited) drink followed by a home-cooked meal. The conversation gradually gets animated with topics that may range from 'pickle to politics'.
Stalls of sweets, games and entertainment attract crowds from surrounding areas. This creates a festive atmosphere from Mount Mary steps to Mt. Carmel's Church Grounds. Here the gaint wheel, sea-on-land and other game stalls are patronised by eager kids, teenagers & other age groups. This week everyone is a kid or a kid at heart. Music makes the mood merry. Everybody seems to be on their own trip till they finally go home.

UNIQUE & UNCOMPARIBLE:
ln many ways Bandra today is quite unlike other places of Mumbai. It cannot be easily 'typed' as it does not have a fixed identity like Parel, Dadar, Malabar Hill or Colaba. It is rather a place with many faces, moods and manners. It has the rare distinction of being a home to the old rich, the new rich, the poor and the middle class. From quaint, crumbling villages with narrow streets the ways leads to seaside promenades with skyscrapers and lofty mansions; or shady avenues with snug old cottages gallantly fighting off the invasion of apartment blocks.
In certain areas, you can see a sudden switch in surrounding scenes within a few blocks on the same road - with ambiences changing, as if taking you to another time in history. Yet, everyone stays in social harmony, cleverly adapting to their neighbouring area.

PRESENT POSITION:

Today, generation X finds it hard even to visualize the Bandra that was. It has succumbed to the demon called progress. It is a 'world' within a city. One of the most 'hep 'happening' place to be in, it can boast of auditoriums, multiplex theatres, malls, super markets, 5 star hotels, great jogging tracks, scenic promenades, etc. Internet density is among the highest in the city. The Bandra Kurla Complex is the new business hub of the city and its proximity has further enhanced the already high property value of Bandra.
The unique cosmopolitan nature of Bandra offers a superb cross-pollination of cultures and religions that exist in harmony, resulting in creating an ideal atmosphere for creativity - making it the ideal setting for writers, poets, journalists, actors, models, TV. stars, fashion designers, musicians, etc.That 'family feeling' is still strong. Even today, Bandraites will tell you that it is like living in one big extended family with hospitality extended to one and all. Bonding in Bandra is part of the local social culture, that goes beyond other issues.
The Bandra Gymkhana is still the centre of cultural activities, with annual events putting people into the 'spirit' of camaraderie. With better facilities and ambience being offered now, its a great place to hang around with family & friends. Its later day counterparts, the Otter's Club, Bay View Club & M.I.G. Club are also good places to relax & rejevunate, entertain colleagues or just chill out.
It is rightly said: You can take a Bandraite out of Bandra, but you cannot take Bandra out of a Bandraite or ex-Bandraite. Staying here even for a short while, makes you want to return again - even plan to settle down here. Some sort of magnetism, that's inexplainable ! Today, the fast growing NRI & foreigners population is ample proof that this suburb is accepted as being the best that money can buy.
Anita - The Fearless | Bandra Rocks ! | Vincy D'Mello - author of 'Party Games'


CO-EXISTENCE OF CONTRASTS:
As any Bandraite will tell you, residing in Bandra is 'an experience of sights, sounds and smells', very unique to this suburb. In Bandra you can readily buy a refrigerator or a T. V. set in a fashionable shopping centre bright with lights, traffic and tinsel - or look for fresh prawns in a small fishing village - loud with noise, the smell of fish and the wash and whip of the sea.
Enterprising people are seen everywhere and the vibrancy of life has to be seen to be believed. Bazaars are meeting points where matrimonial matches are initiated - only to be discussed & fixed at the next home party. At Linking Road & Hill Road, every evening crowds shop as if there were no tomorrow - shop 'n' shop till you drop.
To satisfy your culinary tastes, Bandra boasts of some of the best multi-cuisine restaurants at different locations - both pure veg. & non-veg. There is a new food outlet opening and closing down every other month. Competition is fierce. Which is why Bandraites have the best choice when it comes to ordering food. Most offer 'Free Home Delivery', which is just a phone call away !
This co-existence of seeming contradictions is an uncanny resonance of what Bandra is all about. Viva la Bandra !
- Merck N. D'Silva


If you have something interesting to share about Bandra CLICK HERE


To Use Our Recommended Browser CLICK HERE:
Mumbai's Original Inhabitants | First EI Enterprise In Bandra | EI Community
---
Online Informative Services Business Directory:
A|B|C|D|E|F|G|H|I|J|K|L|M|N|O|P|Q|R|S|T|U|V|W|X|Y|Z
---
The contents of this site are aimed specifically to residents and ex-residents of Bandra (East), Mumbai - 400 051 and Bandra (West), Mumbai - 400 050, Maharashtra, situated on the west coast of INDIA


To Return From
All About Bandra to BandraNet HOME PAGE
Please CLICK HERE