NCSCSL
The Nasik Catholic Sanatoria Co-op. Society Ltd.
Annual Picnic: "The Ultimate Paradise Resort", Uttan, Bhayandar
on Sun 22nd Nov 2009.

Ultimate Paradise Resort - Picnic Pics

more Picnic Pics...

Holiday Homes - room rates 2010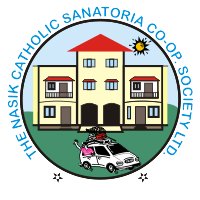 The Nasik Catholic Sanatoria Co-op. Society Ltd. (NCSCSL) was founded in 1914 by a small group of people with tremendous foresight and an endeavour to assist Catholics in and around Mumbai enjoy an affordable holiday.
Starting from humble beginnings the NCSCSL today boasts of two of their holiday homes which are available for their members use throughout the year. Apart from these two owned holiday homes, the Society also has a tie-up with a hotel in Nasik, thus ensuring that members have a choice of locations.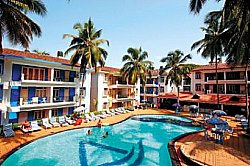 HOLIDAY HOME AT GOA: The NCSCSL owns a one Bedroom flat at Candolim, Goa,in Alor Grande Holiday resorts - earlier known as Dom Fransico Resorts.
This flat is well furnished with beds, dining table, TV, refrigerator, crockery and cutlery and gas and cooking utensils and can accommodate upto 6 persons. The Managing Committee has appointed Mr. Anacleto Nobbay (Mobile no. 9326115648) as a care taker. He looks after the general maintenance of the flat and ensures that the same is in proper condition when a member arrives. Needless to add, it is expected that members would ensure that they leave the place in the condition that they would have liked it to be when they arrive.
This flat is available to members at prevailing rates for a maximum period of 10 nights at a stretch.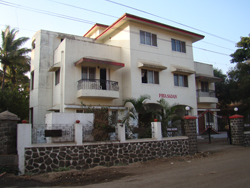 HOLIDAY HOME AT LONAVALA: The NCSCSL owns a building with 6 flats consisting of 1 two bedroom duplex, 1 one bedroom flat with attached toilet, 2 one bedroom flats with two toilets each and a sit-out terrace and 2 studio apartments with a sit-out terrace. This holiday home named "PRIA SADAN" is located at Nangargaon and due to its proximity to Mumbai and Pune is an ever popular attraction for all members.
The high standard of cleanliness coupled with regular maintenance of the building and the amenities provided ensures that this is "a home away from home" for members. PRIA SADAN is an ideal place for family reunions, group picnics or to just take a break and chill out. One could also go sightseeing or trekking to the hills and valleys from here.
Members are entitled to book 2. flats for a maximum duration of 10 nights at a stretch.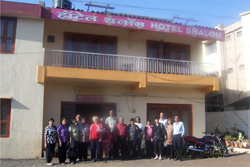 SHALOM GUEST HOUSE AT NASIK: The Managing Committee has entered into a tie-up with Management of this Guest House for our members wishing to visit Nashik or The Shrine Of Infant Jesus located very close by.
The Society provides it's members with either one 2 bedded room for a maximum period of 4 days in a financial year OR one 4 bedded room for a maximum period of 2 days in a financial year. The rooms are provided at subsidized rates and reservation is ONLY through the Society's office.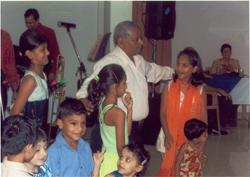 ACTIVITIES: The NCSCSL organizes and arranges several programmes and activities for it's members. Among these is The Annual Thanksgiving Mass and Get Together for members. The locations for the Mass and Get Together have to be changed frequently with the increasing membership and increased participation.
Last year the Annual Thanksgiving Mass was celebrated at St Peter's Church, Bandra and the Get Together on the Backyard Lawns of St. Stanislaus' High School; whilst the previous two years the Mass was celebrated at Sacred Heart Church, SantaCruz and the Get Together at the Willingdon Catholic Gymkhana. Glowing accounts of the celebrations and comments of appreciation are forthcoming from members.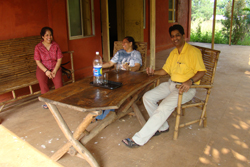 Another programme that members look forward to is the Annual Picnic. The ever vibrant Managing Committee headed by it's dynamic Chairman and Hon. Secretary ensure that members really have a gala time. The last year's picnic was to Mello Adventure and Nature Farm, Karjat, whereas the year before a picnic was organized to Mount Resorts near Vajreshwari.
Being christened the Nasik Catholic Sanatoria Co-op. Society Ltd, an Annual Pilgrimage to the Shrine Of Infant Jesus is a MUST and so each year The Managing Committee organizes a pilgrimage by bus from Mumbai to the Shrine with an overnight stay at The Shalom Guest House. Of course there is a limit to the number of members who can go on this pilgrimage due to space constraints at the Guest House, hence booking is done on a First Come First Served Basis. This pilgrimage is also coupled with outings to nearby places of interest like the local Winery, a visit to the Vineyards etc.

CONTACT: The Society's membership is growing at a rapid pace as more and more members introduce their friends as members. Our membership stands at 704 members as on 31.03.2009.
Enquiries of sorts can be emailed to: ncscsl@gmail.com

or
personal enquiries could be made at the Society's office at :
Wing A-2, Shop no. 5, Ground floor,
Plot no. F/816, 25th Road, TPS III, Bandra (W), Mumbai 400050

or
on telephone 2643 3089 or 99204 48912
between 9.00 am to 12.30 pm and 5.30pm to 7.30pm. on weekdays




The contents of this site are aimed specifically to residents or ex-residents of Bandra (East), Mumbai - 400 051 and Bandra (West), Mumbai - 400 050, Maharashtra, situated on the west coast of INDIA