Sheltry, 30,St. Paul's Road, Bandra (West), Mumbai 400 050
Regn # E-20374
A father, poor labourer, with five children. Mother died after delivery, her 6th baby a little boy. The two little girls, 3 & 4 need to be taken care of ...who will take them ?

Yes, in our own little way, Sr. Christobel's Trust, reached out to them and many young children in similar circumstances giving them free food, clothing, shelter and an education. We take in children who are begging boys (under 5 years), girls (under 7 years). These little ones are innocent and must never be taken advantage of. "Love them as they are and fight for them to be great men and great women for all the world to see !" (Song "Up Up With People")

The Rose Room at Bandra (opposite Bhabha Hospital) caters to give hope to, so many homeless, naked, sick and starving men, women & children each day. They are welcome to a bath, clean clothes and food cooked by Yellow Roses. On their way to Bhabha Hospital we take them for admission (pay for medicines, admission, etc. )

Reaching out to the poorest on the streets, the Red Roses with packets of food, search the roads for the helpless, feeding and bathing them.

Fruit, vegetables, clothes and other necessary items like soap, etc., makes nearly daily @ 100 families in various areas happy to recieve these items.

The welfare centre in Kalina, attends to 10 poorest children, besides the Balwadi which has 25 children, collected from the streets for breakfast, lunch and snacks, before they go home. Orange Roses provide the meals for this centre, besides donations in cash or kind are always welcome.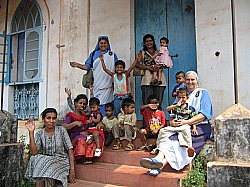 In Goa, MTR's Welfare Centre in Parra, houses and educates 26 little ones. They are content with an excellent education at St. Joseph's, Arpora and some even got double promoton. The Quepem House donated to us recently needs lots of repairs, with leaking roofs, toilet, etc. Please pray that we can make it hospitable. A man and a handicapped son are already admitted there, besides a blind man who needs help. Handicapped children were very close to Mother Teresa's heart, so rather than separate them from their family we provide monthly ration so that the child is not a burden but a boon to the family.
Making a difference in love to this broken world of ours, Mother Teresa's Roses, thro' Sr. Christobel's Trust has affected the lives of so many and continues each day to help the most needy. Without your help, our reaching out would not be possible ! We thank all our Trustees, Benefactors and all our volunteers and staff for their untiring efforts to alleviate suffering from our fellow countrymen and make our world a better place to live in for all.
God loves you.
Sr. Christobel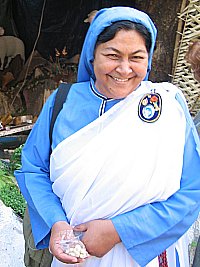 ********************Cheques/D.D. payable to Sr. Christobel's Trust
Mother Teresa's Roses | Bandra's very own Mother Teresa in action
A typical day for Mother's Roses in Bandra, Mumbai, INDIA