WeekEnd Getaways
:: places in & around mumbai ::


>>>>>>>>>>>>>>
HILL STATIONS:
1. Matheran
Matheran is a hilltop situated at an attitude of 800m surrounded by lush greenery. The season is between mid September and mid June. Mumbai, 100 kms away, is the nearest airport and Neral is 21kms away, the nearest station.
2. LONAVALA, KHANDALA AND KARLA
Lonavala & Khandala are the charming hill station on the western slopes of the Sahayadrin's that straddle the Mumbai-Pune higway at an altitude of 625m. Karla about 12km from Lonavala is the site of the largest Chaitya caves in India. Mumbai is 104kms away and Pune is 66kms away.
3. MAHABALESHWAR
Situated at an altitude of 1372m Mahabaleshwar is the most popular hill resort os Maharashtra, a treasure trove of 30 exotic sites. Boating/fishing facilities are available at the placid Venna lake. The main appeal is to enjoy a network of clearly, marked hiking trails through the woods leading to waterfalls. 120 km away from Pune airport. Buses available from Pune and Mumbai.
4. AMBOLI
Situated in the southern ranges of Sahyadri hills, at an altitude of 689mts is the last mountain resort ending in flat beaches. Numerous view points frequented by tourists are Seaview point, Nagatta Falls, Mahadevghad. Amboli is an ideal resort for a few days of isolation.
5. PANCHGANI
The name is derived from the five surrounding the place. At an altitude of 1334m. This place famous for its climate, scenery and valleys. There is an excellent view of river Krishna at one side. September to May is the best time to visit. This is the quintessential residential hill station.
~~~~~~~~~~~~~~~~~~~~~~~~~~~~~~~~~~~~~~~~~~~~~~~
>>>>>>>>>>>>>
BEACHES
1. GORAI
FARRY'S - the greenest holiday spot on the island of Gorai | Fonseca's
Gorai is closest to Mumbai, with a small beach area that's serene and peaceful - away from the bustling city. Access is by road from Bhayandar Station or by ferry from Borivali or Malad-Marve. This is truly an island in the sun - great for short picnics...
2. MANDWA-KIHIM
Mandwa is a beautiful untrodden beach offering a breathtaking view right upto the Gateway of India. For an unusual tent holiday is the nearby Kihim Beach. The nearest railway station is Panvel 85km. By road Kihim is 136km from Mumbai.
3. MURUD-JANJIRA
Murud is today popular for its alluring beaches, coconut and betel palms and an ancient Fort. The 300 year old fort of Janjira is an architectural marvel. Just a few kms. away are 2 unspoilt beaches Nandgaon and Kashid. The nearest railway station is Panvel.
4. DAHANU-BORDI
Dahanu is a quiet seaside town with a sprawling, uncluttered beach situated in Thane District. A little away from Dahanu is Udwada, which is the 'Macca of Zoarastrians'. A large beautiful temple houses their sacred fire.
5. GANPATIPULE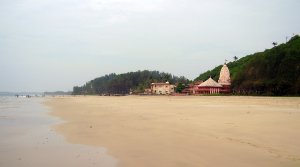 The beach and lush greenery along with a 400 year old temple draws tourists year after year. Ratnagiri is the nearest Railway Station. Mumbai is 375km by road and Pune is 331km.
This large little-known breathtaking white sand beach is clean and holiday tourists can enjoy a dip. However, beyond knee-deep waters, it's dangerous to even try to swim here, although the blue sea seems inviting. MTDC Hotel rooms are available - some a.c. & sea-facing.
6. REWAS-MANDWA
The region along the coastline is one of the most beautiful area vicinity of Mumbai. Dotted by beaches, creeks and bays lying amidst a wide variety of vegetation and plantation, the ideally suited region is fast becoming the most sought after tourist enclave of Mumbai City. Catamaran, motorboat services from Gateway of India are availabel.
~~~~~~~~~~~~~~~~~~~~~~~~~~~~~~~~~~~~~~~~~~~~~~~~~
>>>>>>>>>>>>>
TREKKING
1. KHOPOLIKhopoli is a lovely place for trekking. Some of the interesting places are Duke's Nose. Zenith Waterfall. It is surrounded with mountains, greenery, small springs and waterfalls. The famous Ganpati temple of Pali is situated at half an hours frive from Khopoli. Nearest Airport is Pune. Nearest Railway Station is Karjat.
BHANDARDARA
If you love trekking then this is the ideal place!! Some of the attractions here are The Arthur Lake, Wilson Dam and Mt.Kalsubai. Igatpuri is the nearest Railway Station. By road Mumbai is just 191kms away.
LOHAGAD FORT
Height is 3420 FEET
Time taken to reach the top - 3 hours from the base.
Ways to get there
For soldiers on foot: You can either take the Indrayani or Deccan Express early morning to Lonavala. Alternatively catch a ST Bus from the Dadar Highway (near Pritam Hotel) to Lonavala. Take a local train from Lonavala to the next station Malavali. A 10-minutes rickshaw ride from Malavali will take you to the base village Bhaje. Then march ahead on foot.
For Car Devils
There is a car route till the base of the fort. But let me warn you, the path is not smooth, so drive there only if you are sure your vehicle can handle the rough terrains.
Other attractions:
Bhaja Caves
Believed to be built in the 12th Century, Bhaja consists of 18 caves. A 15-minute climb from the base village will take you to the caves.




The contents of this site are aimed specifically to residents or ex-residents of Bandra (East), Mumbai - 400 051 and Bandra (West), Mumbai - 400 050, Maharashtra, situated on the west coast of INDIA