Bandra Fair 2010
a week when the 'queen of the suburbs' plays host
to friends & family from elsewhere
Bandra Deanery Churches: Weekday Masses | Sunday Masses
Mount Mary Novena Timings Mass Timings 2010
Mt. Carmel's Bandra Fair Schedule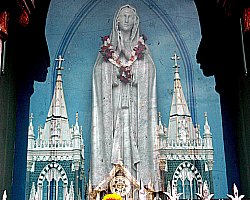 The Basilica of Our Lady of the Mount stands on a hillock about 80 metres above sea level, overlooking the Arabian Sea to its western side. It draws lakhs of devotees and pilgrims annually. Many faithful attest to the miraculous powers of the Mount with whole-hearted zeal. During the Bandra Fair, tens of thousands visit the shrine. The shrine attracts people from all faiths - who pray for thanksgiving or requesting of favours.
Every September, the feast of Mount Mary is celebrated on the Sunday following 8th September, the birthday of the Virgin Mary. This is a week long celebration known as the Bandra Fair and is visited by several thousands of people from surrounding areas. This year the Bandra Fair starts from Sunday 12th September and ends on Sunday, 19th September 2010 midnight.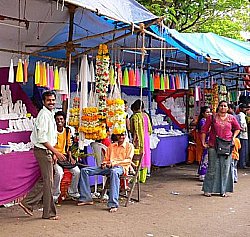 During the Bandra Fair, the entire area is decorated with festoons and buntings. Many pitch up stalls selling religious objects, roasted grams and sweet items. Stalls sell sticky Goan sweets and wax idols of the Virgin along with an assortment of candles shaped like hands, feet and various other parts of the body.
The sick and suffering choose one that corresponds to their ailment and light it in the Basilica at the Mount, with the pious hope that Mother Mary will consider their appeals for help.


Stalls selling little bottles of soapy water that can create bubbles are very popular with kids. The innocent fascination of blowing bubbles that eventually burst, brings joy and laughter to all around. Clowns, mimicry shows, circus stunts and other entertainment add to the festive feel.
You can have your photograph taken with backgrounds that vary from space age to religious to worldwide landmarks. These are popular with those group of people who have come with their family and friends from far flung small towns around Mumbai.
Snacks and complete meals made at the homes of those locals residing in the fair area are famous for their taste, variety and economical rates. There are such food outlets at almost every corner.

The Bandra Fair is an annual event every September - a week when Bandra is centre-stage to Mumbai and Bandraites play 'host' to their family and friends living elsewhere. This is 'the time' for family & friends from neighbouring areas out of Bandra to bond over a (high-spirited) drink followed by an excellent home-cooked meal. The 'feast' starts...
The conversation gradually gets animated with topics that may range from 'politics to pickle' and from the 'swine-flu to sorpotel'. At times it could even meander from 'malaria to mother-in-laws'. Common friends and foes have their personal profiles layed thread bare amidst loud laughter. Yes, this is prime time for creative camaraderie at it's very best - 'high-level' meetings, in it's true sense.


Stalls of sweets, games and entertainment attract crowds from surrounding areas. This creates a festive atmosphere from Mount Mary steps through John the Baptist road to Mt. Carmel's Church Grounds. Here the gaint-wheel, sea-on-land and other game stalls are patronised by eager kids, teenagers & other age groups. Chapel road and beyond too are part of the Bandra Fair 'area' - with toys, games, etc. attracting kids.
This week everyone is a 'kid' or a 'kid at heart'. Music makes the mood merry. Daily programmes are announced which add to the activities. This area of the Bandra Fair is truly a 'melting pot' of all ages & faiths. Everybody seems to be on their own festive trip, till they finally go home.


All About Bandra | Bandra's very own Mother Teresa


TRAFFIC ARRANGEMENTS: The Mumbai Police has made elaborate arrangements for the Bandra Fair 2010 by setting up special chowkies, police field control rooms and a centre for missing children.
Vehicles will not be allowed to be parked on Mount Mary Road, Kane Road, Chapel Road & John the Baptist Road between September 12th and September 19th Dr. Varaskar Road, Hill Road, Perry Road and Turner Road will be made ONE WAY. Mount Mary Road, Kane Road and Pereira Road will have east to west movement only for residents.
BEST shuttle bus services will operate regularly between Bandra Station and Mehboob Studio to help transfers and ease traffic congestion. Please make maximum use of this facility.
All are urged to observe decent behaviour at all times .




The contents of this site are aimed specifically to residents and ex-residents of Bandra (East), Mumbai - 400 051 and Bandra (West), Mumbai - 400 050, Maharashtra, situated on the west coast of INDIA